There is a place in Marble Falls, Texas that is famous for its pie.  More specifically its meringue pie.  We decided that Otter would like to stop and check out this place and have a little pie too.
The place is called Blue Bonnet Cafe.  When entering the cafe, there is a wall of pictures of some well known people who have visited.  Former President and First Lady George and Laura Bush were pictured on this wall.  After looking at the pictures of the famous people who have had pie at the Blue Bonnet Cafe, we passed a display case full of impressively high meringue pies.  Our mouths were drooling and we were ready to dig in to a piece of our own pie.
As it turns out, we were in luck and happened to make it to the Blue Bonnet Cafe in time for Pie Happy Hour.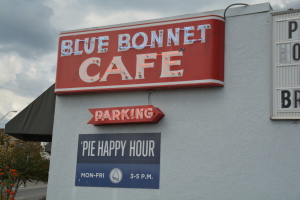 There were many choices and it was hard to pick just one.  Once everybody had ordered we anxiously awaited our pieces of pie.  They were huge!
We had three slices of chocolate meringue pie, two slices of coconut cream pie, and one donut.  Owen did not want pie. Well we definitely should have split those pieces of pie.  We ended up with lots of leftovers.  That's ok it was enough to have pie another day.
If you ever find yourself in Marble Falls, Texas at pie happy hour, Otter recommends you stop into the Blue Bonnet Cafe and get your piece of the pie!